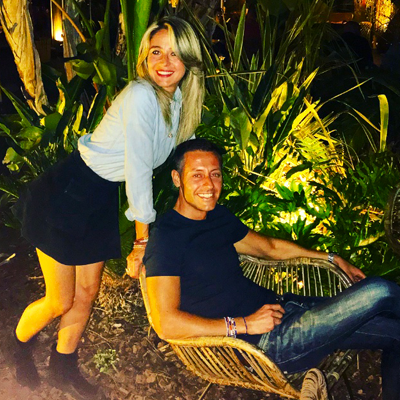 Orti della Tenuta is a dynamic and multi-functional first-generation farm established in 2010 located in the splendid setting of the Montelibretti's estate, a few steps from Rome.
A reality in which we deal with the cultivation of aromatic herbs and small fruits and we manage a small orchard and olive grove for the production of jams and extra virgin olive oil. Work done in full respect of the land that houses our plants.
We work to create a new relationship with the natural world and its fruits, we want to show and share its beauty and tell its importance.
We have created a sensory journey dedicated to aromatic and medicinal herbs constructed in an organic and orderly way to allow everyone to learn about the properties, uses and beauty of these ancient and precious resources that are extremely versatile and find use from the kitchen to the well-being of the body. to the care of the home, to the realization of floral arrangements up to the aesthetic-visual experience.
We wanted to reserve an exclusive space for them in order to offer children, teenagers and adults the opportunity to immerse themselves completely and directly in nature through an olfactory journey, an experience of reflection and emotion.
The countryside, every day gives surprises, amazes, grows and reveals new and wonderful profiles. The silence of the earth, is equivalent to a song of inspiration, the landscape, the walks, the colors, the scents are the engine of the poetic spirit, of the creative ability, of art, of the new energies that come on, of the ideas that come to life … every corner offers food for thought, unexpected points of view. Nature guides you, and to put it in the words of Burnett (in the book "The Secret Garden") until we have a garden we have a future and no matter the size of each garden. The only thing that really matters is to provide it with the best care and attention because it reflects yourself, what you are and what you will be. The garden represents a material but also an ideal place where thoughts, desires, dreams, emotions, projects and relationships are cultivated.
We believe in emotions, in beauty, in human relationships … our vision consists in conveying emotions, sharing the beauty of nature, of our territory and in building healthy human relationships.
Sharing, collaboration, support and complicity are important elements in our business as in life. Our aim is to bring people closer to simple things … which are those with meaning and profound value … just like we did first in our journey.